'Between Two Worlds' by Vimukthi Jayasundara is now screening at PVR and Amity Lite for a limited run. The book 'Vimukthi's Flat Reality' written by Deepthi Kumara Gunaratne is available at the International Book Fair at the BMICH through Nine Publishing (A36).
In an interview with the Sunday Observer, world renowned filmmaker Vimukthi Jayasundara discussed his critically acclaimed film "Between Two Worlds" (Ahasin Wetei), which was showcased at the 66th edition of the Venice Film Festival in 2009. The movie, co-produced by Sri Lanka and France, followed Jayasundara's directorial debut, "The Forsaken Land" (2005), which depicted roaming souls move along a coastal area against the backdrop of Sri Lanka's war.
In "Between Two Worlds," Jayasundara continued to explore the aftermath of this conflict, particularly about the struggle of youth revealing its lingering effects in a powerful and allegorical manner.
The film's cast featured Thusitha Laknath as Rajith, Kaushalaya Fernando as Kanthi and Huang Lu as a young Chinese woman. The narrative unfolded as a man washed ashore on a remote beach, where he saved a foreign woman, and together they ventured into the wilderness. However, amid the captivating beauty of their surroundings, they discovered a growing, hidden threat. Jayasundara skillfully blurred the lines between the country's past and present, transforming the landscape into a silent witness of an ongoing battle transcending eras.
Best of all
Reflecting on his work, Vimukthi expressed a high level of satisfaction with "Between Two Worlds" in terms of his cinematic practice. He attributed this satisfaction to the creative and financial freedom he enjoyed throughout the film's development, shooting, and post-production phases. Notably, this project represented his most significant budget to date, allowing him to push the boundaries of his creative abilities.
Vimukthi said, "Out of all the feature and short films I've crafted in my film career, this particular project stands out as the one that truly encapsulates my satisfaction with my cinematic journey. The primary factor behind this profound contentment lies in the unparalleled mental and financial freedom I enjoyed as a filmmaker throughout every facet of the production process, spanning from script development to shooting and post-production."
"This film boasts the largest budget I've ever had the privilege of working with, marking a pinnacle in my creative endeavours. It represents a canvas where I unleashed the full extent of my creative prowess, resulting in a work I can proudly call a labor of love and artistic expression," he said.
Critical response
Vimukthi cherished the opportunity to compete in the main competition at the Venice Film Festival, considering it a dream come true. Despite not winning an award at the prestigious event, he deemed it the most special moment in his film career. He said that the film was created during a period of ambiguity and uncertainty in Sri Lanka's socio-political landscape, and he intentionally approached the narrative with a cinematic symbolism to address the issues faced by the country's youth.
Vimukthi said, "In 2007, when I was shooting this film in Sri Lanka, the socio-political situation in the country was shrouded in ambiguity and uncertainty. We embarked on a 60-day journey across the country to capture the essence of our story. Given the harsh response my first film received, I was reluctant to tackle such a direct theme again. Instead, with this film, I aimed to address the pressing issues facing the youth in Sri Lanka using cinematic symbolism."
"As a filmmaker, I gave my utmost to convey this message through the medium of cinema. The symbolic storytelling, I employed here may be readily understood by those familiar with cinematology. For a filmmaker, the ultimate source of satisfaction and solace lies in one's own artistic existence. Rather than engaging in a direct confrontation with the prevailing authority, I used the language of cinema to bring forth the narrative of Sri Lankan youth. This approach garnered a favourable response from both local and international film critics, who offered reasoned and insightful reviews of our work," he said.
'Between Two Worlds' has garnered the most extensive attention from film critics among all of Vimukthi's works. It has received numerous valuable reviews from a diverse range of critics, spanning from Marie-Pierre Duhamel, a prominent European film critic, to Gamini Veragama, a veteran figure in Sri Lankan film criticism.
Artistic film critics and globally renowned critics of popular cinema have lauded this work as electrifying, trippy and an intoxicating cinematic experience.
Vimukthi's flat reality
Regarding the significant delay in screening the film in Sri Lanka, Vimukthi cited practical challenges and a lack of interest as contributing factors. He said that often, the things we hold most dear are the ones we tend to postpone sharing. He said that he had no intention of subjecting his work to unnecessary obstacles or potential bureaucratic complications in the process of showcasing it within the Sri Lankan film industry. Therefore, he closes to set it aside out of reverence for the film.
However, he believed it was crucial to eventually present the film to the local audience. To this end, he collaborated with Deepthi Kumara Gunaratne, a trail-blazer and prominent Sri Lankan film critic, to facilitate a fair review and engage in critical discussions about the film's theme.
"Throughout my journey in cinema for the past two decades, I can say that in Sri Lanka, no one has accorded as much importance to critical opinions as Deepti Kumara Gunaratne. His influence, particularly in the realms of cinema, art, culture, and politics, has been profound and immensely satisfying," Vimukthi said.
He said, "As artists and cultural activists, we've found ourselves on the receiving end of his candid criticism. It was this very critique that spurred our curiosity and led us to explore various philosophical dimensions. Notably, my debut film faced severe criticism from him, and this film he had missed."
"This is precisely why I wanted to share this work with him and sought his review. Therefore, I extended an invitation for him to watch the film and provide his insights, and he graciously accepted. He subsequently composed a critical review that not only evaluated the film but also delved into my cinematic ontology," he added.
Vimukthi also emphasized the role played by the National Film Corporation in the film's release, as well as the subsequent launch of the book 'Vimukthi's Flat Reality', written by Deepthi Kumara Gunaratne. He believed the book was a tribute to the struggles encountered during the film's journey.
Paradigm shift
Looking ahead to his future in filmmaking, Vimukthi expressed a desire for a paradigm shift in his worldview, art, and philosophy. He hoped to explore new approaches and bring about change as an artist, marking a significant evolution in his artistic practice. Jayasundara's dedication to cinemalogy remained unwavering, but he now sought to delve deeper into the intersections of cinema, art, and philosophy as he continued his journey as a filmmaker.
"I ventured into the world of cinema about two decades ago, driven by an unwavering passion and a steadfast belief in cinematology. Throughout my filmmaking journey, every project I undertook was infused with a strong political underpinning related to socio-political environment that I grew up, rooted in my understanding of cinematology," Vimukthi said.
"However, I find myself compelled to undergo a paradigm shift in my worldview and my life philosophy, a transformation that my artistic practice itself seems to demand. With the release of this film, I aim to conclude my aesthetic exploration of this land through the medium of cinema. Moving forward, I am driven by a profound desire to approach cinema, art, and philosophy from a fresh perspective. My aspiration is to effect a paradigm shift and bring about change as an artist," Vimukthi added.
**********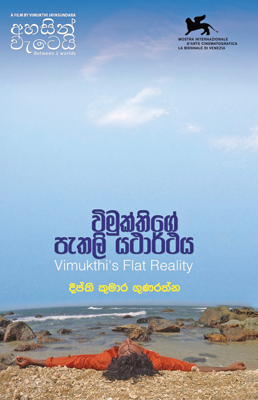 Deepthi Kumara Gunaratne is a self-made thinker and social critic who has had a significant impact as an opinion leader and trailblazer in the realm of culture and politics for nearly three decades in the country. He pioneered the cultural revolution movement known as X Group in the early 90s and has authored numerous influential books, including "Globalization and New Forms of Hegemony" (1999), "Culture and Secondary Politics" (2000), "Art and Deconstruction" (2002), and "Hysteria" (2004), among others, which have generated substantial discussions within the intellectual discourse in the country.
His latest work, "Vimukthi's Flat Reality," introduces a new theory for critiquing visual arts. Speaking to the Sunday Observer, he shared his insights on this groundbreaking theory.
"In Sri Lanka's intellectual history, we lacked an independent and equitable theory of visual art for many years. Instead, our nation has been deeply entrenched in identity politics, which places a high value on personal experience and is closely associated with Vijeweera-ism. We took significant strides to democratise knowledge at the social level by challenging the dominance of English in urban areas.
However, an unfortunate turn of events occurred after 2004 when a group of rural university educators reclaimed this common heritage. Regrettably, they also reinstated the country's exploitative political and economic system. My book marks the first attempt to confront this politico-economic framework. It is a pursuit of truth.
Moreover, this work has led to the development of a new theory for critiquing visual arts. In doing so, I drew inspiration from Western thinkers such as Robert Pippin, Boris Groys, Gilles Deleuze, Jacques Rancière and many others. What I have accomplished is the liberation of visual arts from the confines of 'visuality,' replacing it with the language of consciousness and narrative art. This can also be viewed as a philosophical exploration of art," Gunaratne said.