From their modest beginnings in 2015, 'Local' has been stirring storms in the music scene with lyrical wit, hardcore power and stage presence to boot. Flavours of punk, grunge and post-grunge had been featured in the Lankan rock scene but it was 'Local' who transposed and repackaged the style into Sinhala.
While there are so many bands who claim to be anti-establishment, 'Local' puts rebellion into practice on and off stage; from the bourgeois bars to protest sites, the band's seven year career had been full of surprises.
'Local' is made up of Greg Pallegama on drums, Thilina Bliss on bass and vocals, Harsha Aravinda on guitar and vocals and their newest member Sandeep Perera on drums.
The Youth Observer reached out to Harsha to find out what's behind the music.
Q: Hi Harsha, what are you guys doing these days?
We had some gigs. We are working on some new songs which will include a cover by a popular band. The cover will be a big surprise because nobody will expect 'Local' to cover something like this.
We also have a new member, Sandeep Perera on drums. We are getting Sandeep up to speed with some songs we haven't played with him in case Greg is not around.
In terms of following, our music resonated during mass protests last year and our audience grew thanks to social media.
We are also in the recording process and there is a new song we haven't practiced but we are going ahead with recording it anyway. Plus we are also organising a gig.
Q: We heard that you guys are planning on doing a new video?
We are going to do a live in-studio session of four songs. This footage will be cut, mixed and edited to be released as a professional video.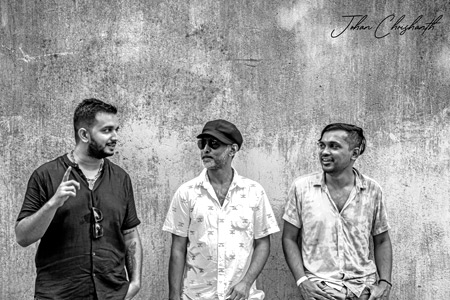 Q: Run us through your creative process.
Our creative process doesn't have set rules. I come up with a melody and the rest of the band adds their little flair. Then we work on it till we get somewhere we like. That's basically how a 'Local' song is made.
Sometimes we jam in a studio. When I hear a cool riff, I try to put lyrics on to it. A song might take six months to make, because we are constantly working on it; we might go home, come back, add and delete. It takes about three months to really get somewhere we like.
Q: What influenced you the most, Harsha?
I grew up with Rock 'n' Roll. I really wanted to play after seeing Pearl Jam Unplugged on local TV. There was one song called 'Jeremy' which I could relate to. Seeing these guys, how they dressed, performed and interacted with the audience made me want to start a band.
Every member of 'Local' has their own influences which combine to make one of our songs.
Q: What can really improve the Sri Lankan music scene?
It's a very tricky question. As we speak, there is mainstream music with a large audience. But the right question here is what can be done for the underground music scene? And even here I can only speak for the underground rock scene.
The economic crisis dealt a huge blown to the scene and a lot of artists started going abroad. When a country is suffering financially, we can't really improve the music scene.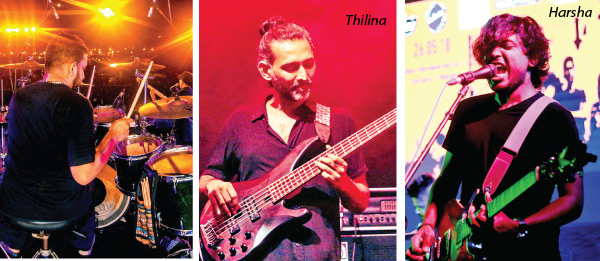 For example, a person coming to a show in Colombo needs to cover travel and ticket costs. They will also want to buy merchandise and refreshments. So a person needs to spend Rs. 8,000 – 10,000 to properly experience a gig.
On the other hand, the price of instruments, equipment and studio hours have also gone up.
In my opinion, the whole economic situation needs to stabilise and we need to come together to push ourselves out of this hole. Think of it as an investment. Only when people come and spend can artists and organisers make a profit and keep making good music.
Q: Quality vs quantity?
It's quantity. That explains why we haven't made a lot of songs because we keep perfecting them again and again.
Q: Should musicians avoid drama and controversy or should the embrace it?
We have no choice. Drama basically follows us. If we wanted to live a vanilla life, we would be doing what we've been doing. In a way, drama and chaos is the source of our creativity.
Q: There had been accusations that Local's music is sexist. What is your answer to these claims?
We are who we are. We talk about our past and present experiences and if that appears sexist and misogynistic, we can't help it. All we can say is, we are authentic and true to our message.
Q: And what is that message?
Social change for the better. Most of the songs we make have a progressive message. We talk about freedom of expression, sexual liberation and love.
A song like 'Sunakaya' talks about Sri Lanka's political climate while 'Janaki' talks about being rebellious.
Q: There is a culture war in terms of self expression. How is 'Local' trying to break the mould?
Our own existence is a rebellious act. A country that has been backward in so many different ways for so many years is hesitant to experience something new and different.
The set of values we stand for is in direct conflict with conservative norms and values but we believe that we stand for a progressive Sri Lanka. This is culture politics to us.