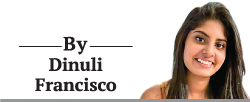 In what can be deemed a fabulous feat, the Colombo Lotus Tower has far transcended its former "White Elephant" designation and ascended to unimaginable heights, symbolising Sri Lanka on the worldwide platform. This prestigious edifice recently gained plaudits at the Council on Tall Buildings and Urban Habitat Awards 2023 in Singapore, securing two prestigious titles: the 'Best Tall Non-Building Award of Excellence 2023' and the coveted 'Best Tall Non-Building in the World' Category.
Architectural marvel
The Colombo Lotus Tower, standing at 356 metres, has become one of South Asia's tallest towers. Symbolising peace, purity, and prosperity within Sri Lankan culture, the lotus-shaped tower has become a beacon of hope, especially given its initiation after the end of decades-long civil unrest. The structural engineering consultants for the iconic Lotus Tower were the distinguished personnel Prof. Priyan Mendis (Professor at the University of Melbourne) and Eng. Shiromal Fernando (Managing Director of CSEC) who played a pivotal role.
The tower's applications comprise shopping establishments, art galleries, dinner areas, an open-air observation terrace, Sri Lanka's only revolving restaurant, outside recreational zones, a digital art museum and spacious parking slots. Its dimensions are 351.5 m to the highest point of the design, 243.8 m to the highest inhabited level, and 356.3 m to the pinnacle.
Sustainable development initiatives
The Colombo Lotus Tower distinguishes itself through its commitment to sustainable development. The project location was carefully chosen to avoid demolishing significant existing developments, promoting a sustainable site selection. Green Building Council of Sri Lanka guidelines were adhered to, minimising environmental impact during construction.
The tower's structural design incorporated grade 50 as the maximum concrete grade, limiting cement content, and utilising 25 percent fly ash from a local coal power plant as a cementitious material. The glass façade incorporates low emissivity glass, reducing heat absorption and energy consumption in the air conditioning system.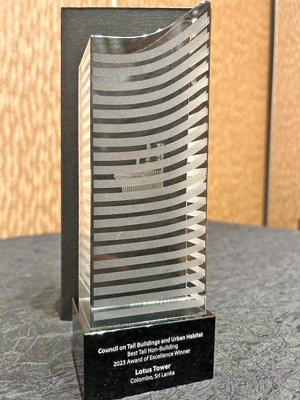 The Council on Tall Buildings and Urban Habitat Awards 2023 in Singapore marked the Colombo Lotus Tower's remarkable achievement in skyscraper design and progress. This international acknowledgement fortifies its stature among the leading-edge projects in 2023.
Managing Director of CSEC, Eng. Shiromal Fernando emphasized the tower's people-centric design, setting it apart from closed societies typical of many towers. He highlighted the tower's openness and its unique representation of the lotus, considered the purest flower in Sri Lanka.
Director and CEO of the Colombo Lotus Tower Management Company, Retired Major General Prasad Samarasinghe shared plans to repurpose the tower as a centre for technology, entertainment and education. Achieving 1.3 million visitors in 13 months, the tower is set to feature a revolving restaurant, bungee jumping, innovation centres and collaborations with the University of the Visual and Performing Arts.
Advanced ideas
Samarasinghe said that the accolade bestowed upon the team at the CTBUH Awards has stimulated them to pursue even more advanced ideas. "In spite of past doubts, the Colombo Lotus Tower Management Company has been able to modify the tower's theme over the course of one year, implementing abseiling, and upcoming attractions such as the revolving restaurant and bungee jumping. The management aims at financial sustainability without government funding, encouraging innovation and attracting 2 million visitors through events, musical shows and restaurants.
The tower is set to become a focal point for learning, innovation and entertainment, with schemes for digital art galleries, guided tours and confederations with the University of the Visual and Performing Arts. Ventures comprise educating children in terms of project progression, initiating revolutionary models and exhibiting the Sri Lankan history.
"Future initiatives involve solar output, aiming to create 20 percent of energy on-site. Spaces dedicated to breakthrough thinkers to exhibit goods and join forces are being arranged. Management's commitment to conservation is reaching a new level through renovating the warehouse and setting up a solar- powered scheme, ensuring 90 percent operation rate before January and financial benefit through bungee jumping and other draws in March," Samarasinghe added.
The previously troubled venture has been reconfigured into an emblem of advancement under the current management, providing educational, technological and recreational prospects to future generations.