This week we reached out to K.M. Rox Ishan, the founder of Marvel Sri Lanka. Ishan is an enthusiastic traveller and an adrenaline junkie. Marvel Sri Lanka offers kayaking, rafting, abseiling, canoeing, rope jumping, hiking, camping, biking and many more adventure sports and recreational activities.
Speaking to Ishan on his travelling endeavours and experiences here is what we found out:
Q: What does travel mean to you?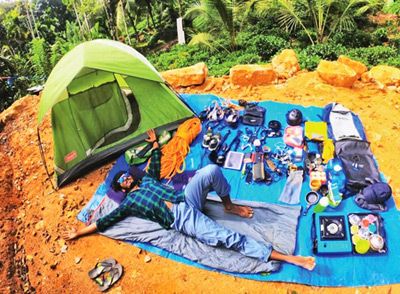 A: Life is like a river. We always float down stream but we use different lines to run the river- (Sk). I decided I will learn how to run the river and I will run it on my own. This is how I got interested in traveling because we don't have to sit in one place, like a tree. God has made us well and able and given us legs to walk around and explore. When exploring there are so many things to learn about culture, about people, about the environment and even climate change. When I started traveling, I did it to balance life with a little bit of nature. If I were to describe myself, I'd say I am not a traveler, I am an explorer!
Q: How did you get into adventure sports and adventure travel?

A: I believe if you find out where you truly belong you will find your space. I started my journey when I was 16 years old. My first job was with Borderlands as a Bartender for six months then I became a Bar Manager. During that time, I had the privilege to work with local and international guides. During that period I used to work for corporate groups, and leadership programs. I used to go to the river with guides and I got the opportunity to paddle down the river. The guides were really friendly. We were like a family. I got the knowledge and skills at that time. Then I slowly started to travel around the country by myself and with my friends. I used the money that I made from this job and invested it to get certified and qualified and gain special training abroad. After this I became an adventure guide. Thanks to Borderlands. I got a lot of opportunities from Wade Campbell.
Q: What inspires you to do what you do?

A: The thought that I don't live inside a box and that I could do more. As I became an adventure guide I decided that I want to do something for the country in the adventure tourism side, not just as a business. So, as I started doing my own thing I met so many people with so many interesting ideas. I made a really good network around the world. Then I finally came up with the name 'The Marvel Sri Lanka'.
Q: Tell us something you have learnt while travelling?
A: Working with Borderlands as a river guide, I learnt that if anyone is planning to start a better life travelling is the way to go. We need to experience and respect different cultures, environments and people.
Q: Tell us about your work with Marina by DAE.
A: Working with Marina by DAE was the next level of my travelling journey. I started my journey in charge of water sport. I was really happy to be a part of this family. I learned about navigation, firefighting, speedboat handling through the company, I levelled up my certification and the knowledge skills here. I believe that there are many more things to learn same.
Q: What is it like being an adventure guide?
A: I enjoy doing what I love because it makes me feel free. Finding happiness in what you do is key to a fulfilling life. I believe I'm living the life I've always wanted, staying busy as an adventure guide. I try to bring out my talents and create new things, even if they seem impossible. I use them every day to explore, share, and pass on ideas to the next generation.
Being a guide comes with challenges; I often face problems alone, and people I trust sometimes let me down while trying to balance an unbalanced world. Despite the difficulties, I've learned to navigate the river of life on my own. Carrying my own water bucket is crucial, but I've also learned the importance of good friends during our journey down the river. While some have left me in dangerous situations, I've developed the skills and techniques to paddle fast or stay calm, learning from each moment along the way.
Q: What is the best place you have traveled to so far? And why do you like it?
A: Actually for me every place so far is special, because I'm going for a hunt so I make the place special always but if you ask me to pick one number, I will pick the Mahaweli river expedition Mahiyanganaya to Trincomalee the marvel Sri Lanka the first one to complete this river journey.
This is the biggest adventure you can have in Sri Lanka so that's why I am picking this. From the beginning of 2023 I have gone on 28 new adventure locations and activities.
Q: Why do you like adventure sports such as paragliding?
A: It gives me the energy to live, the life I want, it challenges me and I like to take challenges. I like to do things that seem impossible. This encourages me and teaches me a lot about adventure and it makes me happy. I genuinely feel like I was born for this.
Q: What kind of safety mechanisms do you have to keep in mind when doing these?
A: When it comes to adventure safety is number one. You have to always make the safety double or triple as much as you can. For example, if you are planning to go down a waterfall first thing is you have to have a proper equipment proper guideline proper safety system and then you have to get a good anchor point and you have to have good guides certified. They have to know 10% what they are doing. Otherwise it is like getting my hand on a table cutting it myself.
Because we are the one that's creating the scenario we are posting and sharing all the videos photos we are the one is Calling out for unknown Adventures so the responsibilities it's 100% on my side.
However it is very important to have fun. Whatever we do, we do through safe methods. We get people out of their comfort zones. We are giving something to them. After they do the activities they feel it and use it in life.
And finally it is very important to give back to nature. We need to always clean the environment we fight for it and protect it.

Q: How do you manage Marvel Sri Lanka without any hiccups?
A: I have built a good team. We are like a family. Everything goes through a system and we manage everything with safety, concern and precision.