In the world of Hollywood, where talent and longevity are rare commodities, one actress stands out as a true testament to both: Naomi Watts. With a career spanning over three decades, Watts has seamlessly transitioned from a young aspiring actress to a revered industry veteran. Her journey is a story of resilience, versatility, and an unwavering commitment to her craft.
Early beginnings
Born in England in 1968, Watts relocated to Australia with her family at the age of four. It was in this culturally diverse and vibrant country that her passion for acting was ignited. Dropping out of school at 14 to pursue her dreams, Watts embarked on a journey that would lead her to the pinnacle of Hollywood success.
Breakthrough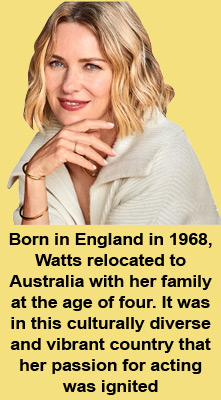 Every actor dreams of that one role that changes everything. For Naomi Watts, that role came in the form of Betty Elms in David Lynch's "Mulholland Drive" (2001). It was a character that demanded depth and versatility, and Watts delivered in spades. Critics and audiences alike were captivated by her performance, and her star began to rise.
A versatile force
Watts' career is a masterclass in versatility. From spine-tingling horror in "The Ring" (2002) to raw emotional drama in "21 Grams" (2003), she has consistently proven her ability to inhabit a wide range of characters. Her portrayal of the resilient Maria Belón in "The Impossible" (2012), based on a true story of survival during the Indian Ocean tsunami, earned her an Academy Award nomination and showcased her unwavering commitment to authenticity.
Blockbusters
While known for her indie and arthouse films, Watts has also ventured into blockbuster territory with Peter Jackson's "King Kong" (2005). Her portrayal of Ann Darrow, the fearless actress who captures the heart of the legendary ape, showcased her ability to carry a big-budget film while maintaining her integrity as an actress.
A return to the small screen
Watts is not confined to the silver screen. She made a triumphant return to television with the Netflix series "Gypsy" (2017), where she played a complex therapist exploring her own desires. This role allowed her to delve into the intricacies of human psychology, further solidifying her reputation as a multifaceted performer.
Producer and advocate
Watts' influence extends beyond acting. She has stepped into the role of producer, making her mark with projects such as "Penguin Bloom." She is a passionate advocate for various causes, using her platform to raise awareness about issues like AIDS research, women's rights, and gun violence prevention.
Legacy
As Naomi Watts continues to captivate audiences with her compelling performances and diverse roles, it's clear that her legacy is far from complete. Her journey from a young girl with a dream to a respected actress, producer, and advocate is an inspiration to aspiring artists worldwide. Naomi Watts is proof that talent, hard work, and an unwavering commitment to one's craft can lead to a career that transcends generations and leaves an indelible mark on the entertainment industry.