We live in an era of the emergence of Artificial Intelligence. We seem to be at the precipice of our own existence. AI is threatening to replace human abilities, our core purpose of being. We are facing catastrophic consequences of climate change caused by our callousness.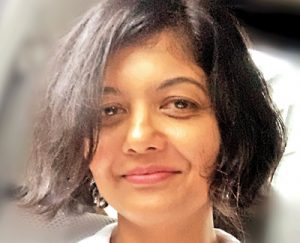 We are constantly debating the function and the necessity of our own existence and inevitably, the function of art as art is about who we are. The world seems to be in chaos and our island nation is bruised by a myriad of battles she has been and still is compelled to fight. Yet we are resilient. Even in times of adversity artists choose hope over despair. That is what art is all about. That is why art is needed.
After years of socio-political and economic instability caused by the pandemic and its consequences which hindered the progress of the field of arts in Sri Lanka, this year we can sense a renewed vigour in the visual artistic arena. Artists and galleries are exhibiting continuously and constantly. Riding this inspiring wave, the painter Dillai Joseph too would be exhibiting her work along with Royden Gibbs, the renowned watercolourist.
When asked how she developed an interest in art, Dillai replied, "My grandfather was an artistic man. He studied art and applied it to various mediums. His love for the artistic world was shared when we were children, and he taught me object drawing as a child. Although I didn't understand it well, my love for art developed around the age of 11. I took art as a subject for Ordinary Levels but never really went deeper into it till I was 19. It was Nadine David who enthralled me with her love for the subject and her in-depth knowledge. She ignited an interest in me to study the human form, love everything around me and observe aesthetics in day to day life. From that point onward, I can say that I accelerated into the art world."
Two teachers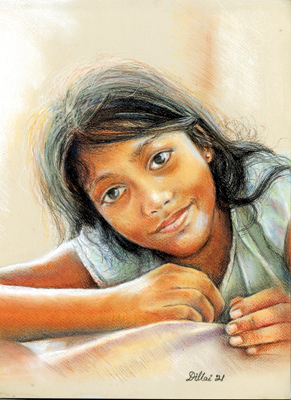 Dillai goes on to reiterate that two teachers were instrumental in her growth as an artist. She states that Nadine David and Royden Gibbs taught her skill and techniques. Nadine David, who was a student of David Paynter, had taught her certain techniques of drawing and painting the human form whereas Royden Gibbs had taught her the watercolour techniques. Dillai had also read about many artists and studied the old masters. While learning different mediums, from watercolour, pastel, oils to acrylic, Dillai's advertising knowledge had helped her to understand how she should communicate a message through art. Dillai believes that art is primarily a tool which she could use to convey thoughts and feelings.
When inquired whether she has a specific style or identity as an artist, Dillai was hesitant to label her work. "I think I am evolving, and in that constant evolutionary process, I feel my style too is evolving. I feel that, as an identity, I have tried to connect humans to nature with my past work. Yes, there are times I concentrate solely on the human form, but by and large I showcase nature and its connection to humankind. My colour palette too tends to be bold and vibrant because I attempt to extract colours that depict nature."
"Art makes you think deeper into the subject matter and explore ideas that you may have never thought of. I also feel that it's my escape from the real world. It is a place where my mind can wander without boundaries or shackles. There is no rigid framework to abide by. Therefore, I can call it my place of freedom and peace." Dillai reveals.
According to Dillai, art impacts her life significantly by enabling her to be a happier person. She feels she could ignite or evoke change in people as her work could instigate thought processes in the audience. That, she says, is gratifying as she feels as if God has granted her a gift, which could eventually have a positive impact. Dillai elaborates further on her creative process.
"Most often, when I look around, the general lifestyle of people will spark off a thought. I may even write down this thought and from that point, branch it out to subareas of how that thought can be interpreted. I may even use keywords and sketches. Preparatory studies and composition sketches are integral for me. Only after I feel it has come to a good level do I start working on the canvas or the paper. I feel almost 80% of the work is preparation, and doing the remainder is so much easier when the 80% is done well."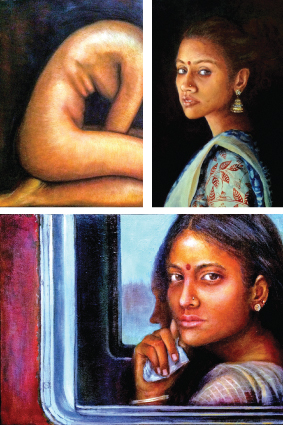 Dillai derives her inspiration from diverse circumstances and situations: in chaos and calmness, in the busy streets, home or the people around her. She is influenced and inspired by the old masters and the way they considered subject matter and technique. For example she gives importance to examining how Caravaggio explores light, Davinci's delicate depictions of the female form and the impressionists' style of brush strokes. Specifically, Monet's exploration of colour. She has an affinity to David Hockney's simplistic yet realistic manner of painting and his use of bold colour as well.
Conservation
Dillai has exhibited her work previously and declares that the upcoming exhibition is somewhat special as "it focuses on the human connection to the environment around us. It calls for an appreciation of what we have and the importance of conservation. We are planning to do a few workshops from November 3-5.
"I am also donating 50 percent of the proceeds to the Wild Life Nature Protection Society, where they have identified particular projects which need urgent attention. Another very special attribute of this exhibition is that I would be collaborating with my mentor Royden Gibbs. It is certainly an honour and a privilege to exhibit my work alongside such a renowned and experienced artist. I feel that our art as well as ideologies would complement each other and grant a unique experience to the audience."
Dillai Joseph aspires to constantly communicate subject matter that is close to her heart in the form of art and to showcase more of her work internationally. She hopes to get involved in inspiring projects and collaborate with diverse parties to bring about more synergy in what she intends to accomplish. Dillai Joseph along with Royden Gibbs will exhibit their art from November 3-5 at the Harold Peiris Gallery, Lionel Wendt, Colombo 7.